1956 USA Wildlife Conservation Stamps (Scott 1077)
signed by 1946 Federal Duck Stamp artist Bob Hines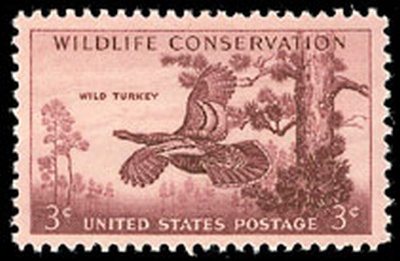 4 MINT 1956 United States 3 Cent Postage Stamps
Hand-signed by Famous Wildlife Artist Bob Hines!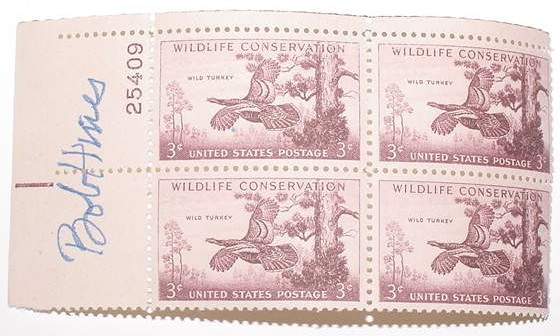 NOTE: Wildlife stamp color above is light due to camera flash. Actual stamp color is normal.

Bob Hines was a pioneer in the wildlife art & conservation stamp world!
Yes, Bob Hines designed ALL 5 stamps seen below. (Read his bio below!)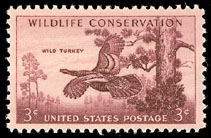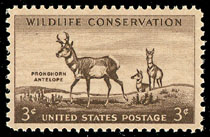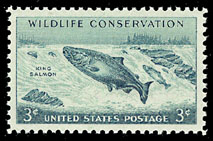 For more info on above 1956 US Wildlife Conservation Stamps (First Day of Issue, stamps sold, etc.), look Here.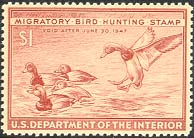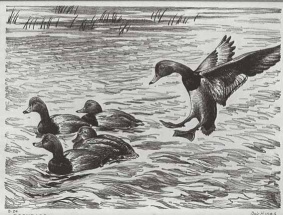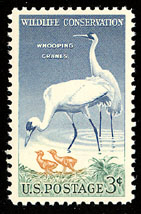 For pricing info on above 1946-47 Federal Duck Stamp (Scott RW13 Redheads by Bob Hines), take a look Here.

For more info on above 1957 US Wildlife Conservation Stamp (featuring the Whooping Crane image), look Here.

According to a reliable source above, a single 1946-47 Federal Duck Stamp signed by Artist Bob Hines is now worth $325.00 and a VF-XF Plate Block of 6 is also worth $395.00. These VF-XF Plate Blocks of 4 sheet corner connected wildlife stamps signed by Artist Bob Hines have been appraised to be in similar price range (Median appraisal price: $360.00). Obviously, because Mr. Hines passed away in 1994, no more of these stamps will ever be signed!

Most collectors feel these 1956 stamps are even more historically significant, particularly because they are FIRST in the Wildlife Conservation Series. As any collector of "First of State Duck Stamp Prints (Average ROI = 927% Appreciation) knows well by now, the first in a series can quickly become more valuable than all other issues in a series COMBINED! From yet another viewpoint, these 1956 Wildlife Conservation stamps got much more exposure among average American citizens because they were postage stamps in a time when the First Class letter delivery fee was its face price - 3 Cents. The 1946 Federal Duck Stamp, in contrast, was part of the licensing requirement for just waterfowl hunters age 16 and up. Much less public exposure!

Let's look at sales numbers. Postal records show the First Day of Sale of this 1956 stamp was May 5, 1956 and 123,159,400 stamps were sold.
The 1946-47 Federal Duck Stamp (Face price: 1 Dollar) featuring Redhead Ducks was the Thirteenth in that annual series. Postal records show the First Day of Sale of this 1946 stamp was July 1, 1946 and 2,016,841 of these stamps were sold.
For Federal Duck Stamp Program info, look Here. For info on 1946-47 issue (and Bob Hines photo), look Here.

---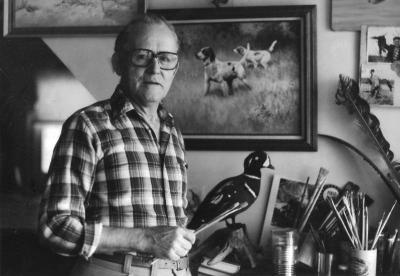 Click photo of wildlife artist Bob Hines for Full-Size version!

Robert W. Hines was born in Columbus, Ohio on February 6, 1912. He attended the local schools there and in Fremont, Ohio where his family moved in 1921. He graduated from Fremont Ross High School in 1926.

Early in 1939, Mr. Hines was accepted for a job as staff artist for the Ohio Division of Conservation in Columbus, Ohio.

Nine years later, Mr. Hines landed a job as an artist-illustrator with the U.S. Fish and Wildlife Service in Washington. There, his first supervisor was Miss Rachel Carson who at the time was just publishing her epic, The Sea Around Us. Later, another famous book by Miss Carson, The Edge of the Sea, was illustrated by Mr. Hines.

Mr. Hines worked for a highly scientific organization and consequently had to make his work extremely accurate. His travels took him to all but three states. During his travels, he spent time sketching, taking photographs, and gathering data for his illustrations. He served as consultant and administrator for the Federal Duck Stamp contest and painted three huge wildlife murals for the Interior Building in Washington, D.C. In recognition of his ability, he received three Meritorious Awards from the Department of the Interior.

In private life, Mr. Hines was a man with great personal charm, and a deceptively relaxed almost sleepy manner. He was married with three children. He enjoyed hunting, fishing and photography in his spare time.

Mr. Hines designed the first of four stamps in the Wildlife Conservation Postage Stamp Series and was one of the two men who helped inaugurate the series. The four stamps in the series are Wild Turkey (1st in 1956 - Scott Catalog # 1077), Pronghorn Antelope (2nd in 1956 - Scott Catalog # 1078), King Salmon (3rd in 1956 - Scott Catalog # 1079) and Whooping Crane (4th in 1957 - Scott Catalog # 1098). The British philatelic press selected the crane stamp as one of the ten best stamps in the world for 1957.

Mr. Hines wrote and illustrated the acclaimed Ducks at a Distance, which was published by the Bureau of Sport Fisheries and Wildlife. He has also done illustrations for Wildlife in America by Mattheisson, North American Waterfowl by Day, Ducks, Geese and Swans of North America by Bellrose, Alaska's Animals and Fishes by Dufresne, Raw North by Gillham, The Upland Game Hunters Bible by Holland, Migration of Birds by Lincoln, Picture Primer of Attracting Birds by Mason, Bass Fishing in America by Bauer, Crusade for Wildlife by Arefethan, Outdoors Unlimited by the Outdoor Writers Association of America, Pheasants in North America by Allan, Honker by McClung, Face of North America by Farb, Waterfowl Tomorrow and Birds in Our Lives, both publications of the Bureau of Sport Fisheries and Wildlife.

Mr. Hines' drawings and paintings have been reproduced by conservation magazines in every state in the union, Canada and even in the Soviet Union. Many Bob Hines wildlife images are in the public domain, so anyone can use them for free!

Mr. Hines died November 6, 1994 in Falls Church, Virginia.
---
With one exception (for the 1954 8-Cent Statue of Liberty stamps ), ALL United States Postage Stamps before 1957 were made with only 1 primary "wash color". Beginning in 1957, stamps designed with more than 1 primary color started to become more common. The 1957 Wildlife Conservation Stamp featuring the Whooping Crane, also designed by artist Bob Hines, is a fine example. As you just read in the Bob Hines biography above, the British philatelic press selected that as one of the World's Top 10 Best Stamps for 1957 - quite an honor indeed!

These rare 1956 stamps (4 total in each hand-signed numbered corner plate block) would make a truly superb gift for any stamp collector or a great addition to your own stamp collection! It could also be a wonderful way to introduce a young person to one of the world's most popular hobbies - Stamp Collecting. Imagine these rare stamps as the start of a new US stamp collection!

Kids today are amazed that you could actually send a First Class letter from coast to coast across the United States for only 3 Cents. Here's a gift-giving idea - you could challenge your child to hold on to these stamps long term and then sell them when the stamps are 100 years old. Prices for these stamps will only go up!

Here's an interesting fact you might not know. The famous patriotic American Ben Franklin went on the record to say the Wild Turkey was such a noble bird, he felt strongly it was more deserving than the Bald Eagle to serve as our National Symbol. That's right, he actually considered the Bald Eagle as more of a scavenger bird. Interesting, isn't it? Why not OWN these rare stamps and tell this story to others yourself? They will become a family heirloom!


50 First of State Duck Stamp Prints average 927% Appreciation ROI!

For a very limited time, we are offering these extremely rare artist-signed
corner Plate Blocks of 4 connected stamps at 50% OFF Appraised Value!
(PLUS, we will include packaging, handling and insured USPS delivery at NO extra charge!)
NOTE: When placing your order online, if you prefer to have a specific corner, please so indicate your choice of
following 3 options during Paypal checkout: Upper-right, Lower-left or Lower-right. Upper-Left: LOW Inventory!

|

|

|

|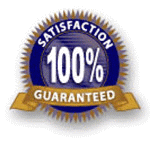 Email: info@wildlifestamp.com · Design: Award Winning Web Site Designs
Promotion by: Carolina Web Marketing · Hosting by: Carolina Web Hosting



First Federal Wildlife Conservation Stamp | Press on Bob Hines Stamps | Links Page | Sitemap
All content Copyright © 2006-2017 by Carolina Web Marketing and Promotion. All rights reserved.